A research team from the Urban Research Lab, School of Architecture, National Technical University of Athens conducted a field trip to East Germany on May 13th-17th, 2019. They visited Leipzig, Dresden and Zwickau in order to study policies and actions to ensure resilience after Germany's reunification together with new governance structures developed. A series of research actions and meetings took place during this trip.
On Tuesday May 14th the research team met with Mr. Kai Braun at Leipzig New Town Hall / urban planning department. Mr. Braun presented the policies the Municipality of Leipzig implement in relation to spatial development and socio-economic cohesion. Emphasis was put on resilience policies introduced during the last decades. Leipzig became infamous during the 1990s as a shrinking city loosing almost 20% of its inhabitants due to suburbanization, migration and low birth rates. The population began to grow again in the 2000s after properly planned resilience measures.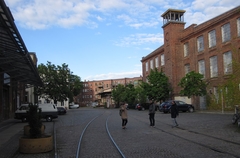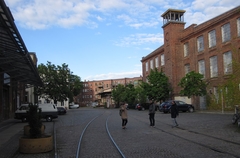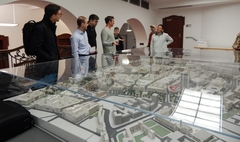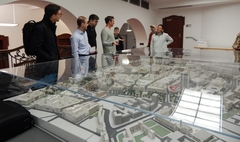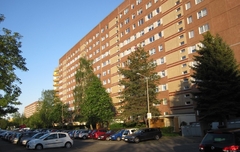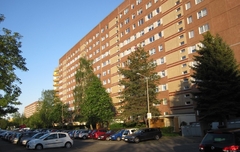 Mr. Braun and the research team continued their discussion regarding urban planning issues, while walking around the district of Lindenau and the old industrial quarter of Plagwitz, visiting urban planning projects. One of the issues discussed extensively was the "Wächterhäuser" scheme, an initiative of the Leipzig HausHalten association. The scheme was set up with the intention of protecting and maintaining existing building with the acquisition of new tenants on a non-commercial basis.
An interesting case study of old infrastructure utilization is the Leipziger Baumwollspinnerei, a 10-hectare, former industrial site in the district of Lindenau. Nowadays it is used to house art galleries and studios, fashion designers' stores, architects etc.
The walk around the Leipzig was concluded in Grünau. Grünau is a large prefabricated housing estate of the former GDR, the largest in Saxony, developed on the west of Leipzig in the 1970s and 80s. Grünau has been shrinking since 1990 and related policies have been adapted to address the problem.
On Wednesday May 15th the research team visited the historic center of Dresden. Dresden is an important cultural, educational and political centre of Germany with a dynamic economy. The research team made a first acquaintance with the city strolling around important sites (Frauenkirche Dresden, Zwinger, Altmarkt, ZfBK- Zentrum für Baukultur Sachsen). Then, they visited the TU Dresden. They had a discussion with the staff of the Laboratory of Knowledge Architecture about the research activities of the laboratory and possible opportunities for research collaboration.
During the last day of the visit (Thursday 16th May) the research team also visited the city of Zwickau. The coal mines of the area contributed significantly to the industrialisation of the city. Zwickau became a centre of automotive industry, including car makers such as Audi, Trabant and Volkswagen.