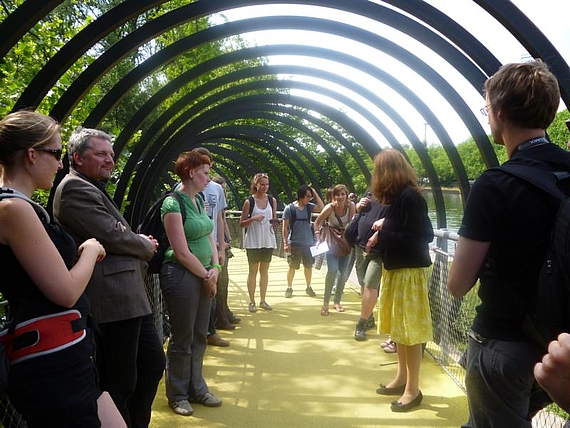 In the last 200 years, the Ruhr region has undergone several fundamental changes - from an agricultural landscape to an industrial region that has been structurally redefining itself since the 1970s. The transition to a service and cultural region includes profound economic, social and ecological changes that could be experienced during the excursion.
The programme of the six-day excursion from 12 to 17 August 2012 covered aspects of sustainable urban and regional planning, dealing with industrial heritage and cultural landscape development.
Already at the accommodation, the youth hostel in the Duisburg North Landscape Park, the dimensions of the industrial wastelands with their disused blast furnaces were experienced at first hand by day and night (see Figure 1). The 15 Master's students of environmental planning and landscape architecture as well as Prof. Rainer Danielzyk, Martin Sondermann and Meike Levin-Keitel explored the polycentric Ruhr agglomeration area and discussed the implementation of many projects with the actors directly on site. The range of topics of the projects and discussions was broad: The group was a guest at the RVR Regionalverband Ruhr as the responsible body for regional planning, at the North Rhine-Westphalian Ministry for Building, Housing, Urban Development and Transport and at the Emschergenosschaft as the responsible body for the large-scale ecological project of Emscher renaturation. Other stops on the excursion were Social City projects in Duisburg and Gelsenkirchen, locations of local, ethnic economies (such as the bridal fashion mile in Duisburg-Bruckhausen), port revitalisation in Düsseldorf's Medienhafen and Duisburg's Innenhafen and integrated site development, such as the newly created Phoenix Lake in Dortmund. Finally, a bicycle tour led along the Emscher and the Rhine-Herne Canal to Ziegenmichel, an environmental education facility at Nordsternpark in Gelsenkirchen.