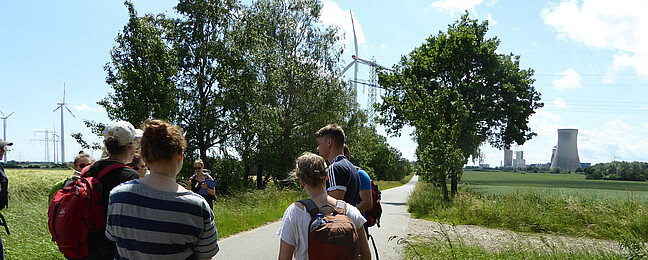 TOPICS, RESEARCH QUESTIONS AND STUDY CONTENT
On the basis of legitimized social agreements it must be decided, how and with what priority human livelihoods are to be protected, maintained and developed. For this purpose, spatially differentiated, implementation-oriented goals and models must be developed in accordance with the Federal Nature Conservation Act.
Nature conservation is the goal and landscape planning is the implementation.
For these tasks, landscape planning uses instruments such as the environmental impact assessment, the intervention regulation or maintenance and development planning. In addition, tools not governed by law are important, such as cooperation models, environmental education and public relations.
The research activities of the working group Landscape Planning and Nature Conservation can be assigned to the overall objective of the transformation towards sustainability. This includes, for example, research on spatial potentials for renewable energies, that are compatible with nature and society. Other research fields include the environmentally friendly use of agricultural landscapes, ecosystem-based approaches for coastal protection, climate adaptation and the consideration of cultural ecosystem services in planning processes. These topics are also introduced into teaching and worked on with students in one-semester projects. Thus, students are well prepared for the constantly expanding demands of the professional field.
However, the professional spectrum appropriate to the tasks of landscape planning and nature conservation cannot be covered exclusively with the resources of the working group and the institute. Therefore, research projects are conducted cross-institutionally and interdisciplinarily within Leibniz Universität Hannover and together with external partners. Involved disciplines are sociology, history, architecture, horticulture, agricultural sciences, economics and civil engineering. The institutes range of student courses are supplemented by teaching assignments for forest planning, tourism, nature conservation administration as well as planning and environmental law.