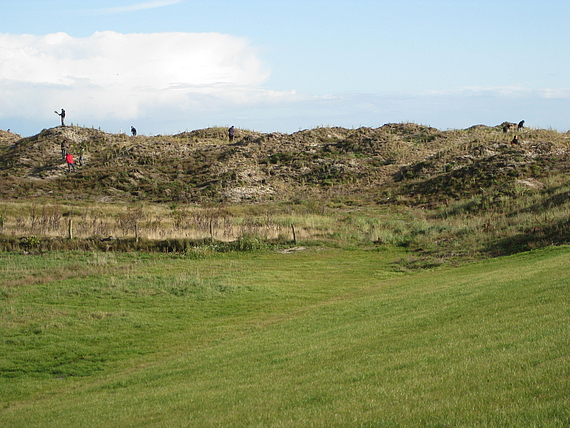 As in previous years, the teaching and research area of Engineering Biology at the IUP conducted an island excursion in cooperation with the Lower Saxony State Agency for Hydraulic Engineering, Coastal Protection and Nature Conservation (NLWKN) from 29 October to 2 November 2012. The five-day construction week enables students to learn about the conflicts of interest between nature conservation, coastal protection and tourism in the Wadden Sea National Park and World Heritage Site and serves to carry out engineering-biological construction measures for dune protection.
This year, construction was carried out on Spiekeroog for the first time. This project involved the re-vegetation of the protective dyke of the "Hermann Lietz School" in the east of the island, which was raised in spring 2012. The special thing about this dyke is that it consists partly of sand only and was designed to resemble dunes. Last year, students were already able to contribute creatively to the planning process by carrying out stepping grips and providing ideas for the greening of the dyke. Some of these greening suggestions, such as the application of sod to the areas now covered, were implemented by the NLWKN. The post-vegetation work carried out by the students was mainly about "setting stalk cuttings" - i.e. planting Baltic beach grass (X Calammophila baltica) and removing the potato rose (Rosa rugosa) in places. The work was rounded off by a vegetation and bird-watching hike with expert guidance through the salt marsh to the mudflats in front of the sand dyke.
Another programme item of the construction week was a botanical-technical tour around the partly massively fortified western head of Spiekeroog as well as the crossing of a dune widening under construction at the level of the camping site with Gerd Eilts, head of the NLWKN depot. Last but not least, the students were able to discuss their impressions of the tensions between nature conservation, coastal protection and tourism during a visit to the exhibition in the National Park House "Wittbülten" with the environmental educator and islander Carsten Heithecker.