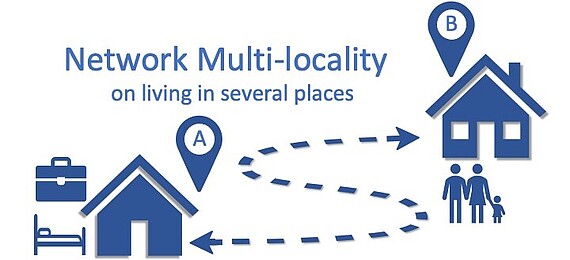 | | |
| --- | --- |
| Led by: | Dr. Lena Greinke, Prof. Dr. Rainer Danielzyk |
| Duration: | unlimited |
| Funding: | Research Incentive Programme AULET of the Faculty of Architecture and Landscape, Leibniz University Hannover |
Brief description
Multi-locality or multi-local living means living in several places at the same time. Consequently, multi-locals regularly stay overnight in different places and use various accommodations. Multi-locality is - alongside mono-local sedentariness, circulation and migration - an independent form of a specific social practice of living. The unique characteristic of multi-locality is that the offers of two (or more) places can be linked together and made usable for the respective household or its members. Multi-locals live in several places because of their work, study, education, family members, leisure and other motives and reasons that may overlap. Compared to a mono-local lifestyle, everyday life's rhythms and spatial references, and social interaction structures change fundamentally.
The topic of multi-local lifestyles is not new but has recently received increased attention under the term "Residential Multi-locality Studies". Multi-locality is not a phenomenon that can be reduced to externally imposed constraints but also includes the "free choice" of living arrangements. The actors of multi-local living thus organise a practice that cannot be adequately grasped with the available concepts, models and theories of the disciplinarily ordered body of knowledge.
The "Network Multi-locality" consists of actors from different disciplines (geography, sociology, ethnology, cultural studies, urban planning, etc.) who deal with various aspects of the phenomenon of multi-locality. To this end, the network acts as an interdisciplinary exchange platform on terminological, theoretical, methodological and empirical questions.
The work of the Multi-locality Network aims
to appropriate terms and models with interdisciplinary relevance, especially the work on a consistent terminological framework for the different facets and forms of multi-local housing practices and its connectivity to the current developments in social science theories;

on the elaboration of quantitative and qualitative data and the related development and testing of the inventory of methods;

to overcome "methodological nationalism" in the research process to be able to grasp the processes of globalisation adequately. A scientific design that reflects and relativises disciplinary and national-cultural limitations corresponds to the dissolution of boundaries in central areas of life;

at the ongoing review of the relevance of the categories of difference introduced, such as age, gender, marital and educational status, (spatially defined) origin, places of residence, ethnic and national affiliations, and so on;

to create discursive stimuli for the practice of those institutions whose regulations affect housing practices in global societies. These are, for example, housing and urban development, infrastructural facilities and their operation, politics and administration on an international, national, regional and municipal scale.
Contact
Would you like to join the network or be included in the mailing list for current information? Contact Dr. Lena Greinke
Funded by the research incentive program AULET of the Faculty of Architecture and Landscape, Leibniz University Hannover