Under the auspices of the Institute for Environmental Planning at Leibniz Universität Hannover, 20 students from Germany, Austria and America conducted visitor surveys around the TorfHaus visitor centre in the Harz National Park. The Summer School from 21 July to 1 August 2011 had the theme "Natural Resource and Recreation Management in Protected Areas". In addition to Leibniz University Hannover, the University of Natural Resources and Applied Life Sciences Vienna and West Virginia University from Morgantown also participated.
Of the total of ten project days, six days were spent at the Torfhaus site. "During their stay at the Summer School, the students should deepen their knowledge of the management of national parks, but also of fundamental nature conservation issues and of protected area-specific visitor management in large protected areas," says project leader Dr Eick von Ruschkowski from Leibniz Universität Hannover.
Various scientific questions were addressed by means of visitor surveys. For example, one group of students looked at visitor motives at the Torfhaus large car park. Another group recorded the activities and length of stay of visitors in the exhibition and at the exhibits of the National Park Visitor Centre. Yet another group asked visitors about the contents of the WaldWandel Trail or their hiking route to the Brocken along the Goethe Trail. "For the TorfHaus National Park Visitor Centre, the students collect important data that helps us to continually develop and respond to the needs and expectations of our guests," says director Heike Albrecht. A total of 338 questionnaires were filled out, the results of which will serve as a template for further research by the University of Hanover.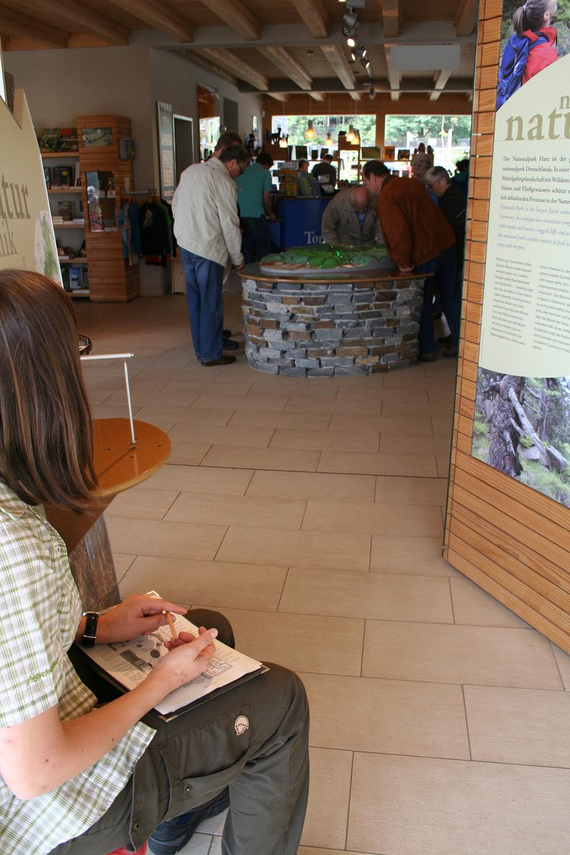 The accompanying programme of the Summer School in the form of guided tours through the Harz National Park and up the Brocken mountain, the teaching of the protected area-specific management goals and natural forest development, as well as the diverse information and discussions around the reintroduction of the lynx were enthusiastically received by the students. Participant Audra Sabo wrote in a blog after her return to the USA: "The German people have to decide for themselves how they feel about the reintroduction of a large predator into the system. Of course there are hunters who complain that the lynx are eating all the deer, but this is an argument that will always be present. I believe that the Germany lynx reintroduction is a great success story and I hope that it will influence the minds of Americans so that we can also share success stories".