Implementation of a nature-compatible design of the energy transition to 100% renewable energy (EE100-konkret) – Konkretisierung von Ansatzpunkten einer naturverträglichen Ausgestaltung der Energiewende, mit Blick auf strategische Stellschrauben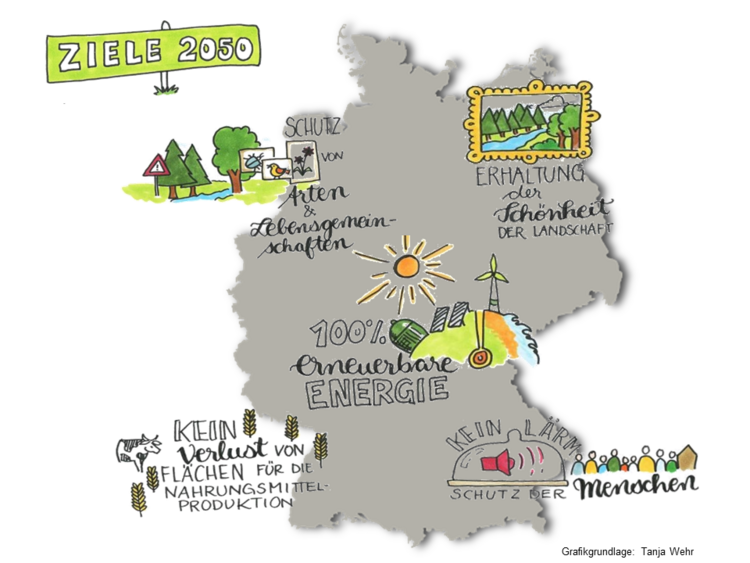 | | |
| --- | --- |
| Led by: | Prof. Dr. Christina von Haaren, Dr. Julia Wiehe |
| Team: | Dipl.-Geogr. Julia Thiele (ab November 2018), M.Sc. Anna Walter (bis Oktober 2018), Dipl.-Forstwirt Malte Weller, Dr. Julia Wiehe |
| Year: | 2020 |
| Funding: | Bundesamt für Naturschutz (BfN) |
| Duration: | Dezember 2017 - Oktober 2020 |
Für eine deutsche Version, scrollen Sie nach unten.
Implementation of a nature-compatible design of the energy transition to 100% renewable energy (EE100-konkret)
The energy transition is one of the central challenges of the 21st century and should be compatible with other sustainability goals. A conversion of the energy supply system must be designed landscape- and nature-compatible in consideration of human needs. The previous research project "EE 100" has shown that today's established methods of production and instruments do not fulfill the challenges of such a human- and nature-compatible energy supply.
Firstly, this follow-up research project quantifies nature-compatible 'reserves' of power. This concerns energy potentials of alternative technologies and uncertainties in existing energy scenarios related to, for instance, species protection. The question of externalities and costs of a future nature-compatible energy system in comparison with other scenarios should also be considered in "EE100 konkret".
In addition, the project investigates whether a nature-compatible design of networks and storage facilities is possible in the energy system. Closely linked to this is the question of correct dimensioning and spatial distribution of storage facilities that are required because of volatile production of wind and solar power.
Communication creates the final focus of this project. Unbiased dialogues with different target groups should prevent conflicts and obstacles in nature-compatible expansion of renewable energies, in the adaptation of supply technologies and in a transformed, more energy-conscious behavior (sufficiency). For this propose various professional disciplines and economic and social players will be involved.
---
Konkretisierung von Ansatzpunkten einer naturverträglichen Ausgestaltung der Energiewende, mit Blick auf strategische Stellschrauben (EE100-konkret)
Die Energiewende ist eine der zentralen Herausforderungen des 21. Jahrhunderts. Sie darf jedoch nicht auf Kosten anderer Nachhaltigkeitsziele gehen. Ein Umbau des Energieversorgungssystems muss natur- und landschaftsverträglich unter Berücksichtigung der menschlichen Ansprüche gestaltet werden. Das Projekt "Naturverträgliche Energieversorgung aus 100% erneuerbaren Energien 2050 (EE100)" hat gezeigt, dass die heute etablierten Erzeugungspfade und Instrumente den Herausforderungen einer solchen mensch- und naturverträglichen Energieversorgung noch nicht genügen.
Aufbauend auf dem oben genannten Projekt liegt ein erster Untersuchungsschwerpunkt dieser Folgestudie auf der Quantifizierung von naturverträglichen "Reserven" der Stromproduktion, die in bisherigen Studien noch nicht ausreichend berücksichtigt wurden. Dies betrifft Energieertragspotenziale alternativer Technologien oder Unsicherheiten in bestehenden Energieszenarien bspw. im Bereich des Artenschutzes. Ebenso ist die Frage der Externalitäten und Kosten eines zukünftig naturverträglichen Energiesystems im Vergleich mit anderen Szenarien zu klären.
Darüber hinaus soll die naturverträgliche Ausgestaltung von Netzen und Speichern im Energiesystem untersucht werden. Eng gekoppelt hieran ist auch die Frage der Dimensionierung und räumlichen Verteilung der Speicher, deren Einsatz die volatile Produktion bei Wind- und Solarstrom notwendig machen wird.
Den letzten Untersuchungsschwerpunkt bildet die Kommunikation. Dialoge mit verschiedenen Zielgruppen sollen Konflikte und Hemmnisse beim naturverträglichen Ausbau der erneuerbaren Energien, bei der Anpassung von Bereitstellungstechnologien sowie eines veränderten, energiebewussteren Verhaltens (Suffizienz) identifizieren helfen. Hierzu werden verschiedene Fachdisziplinen sowie Akteure aus Wirtschaft und Gesellschaft einbezogen.
Projektpartner
Leibniz Universität Hannover, Institut für Elektrische Energiesysteme (IfES), Fachgebiet Elektrische Energieversorgung
Leibniz Universität Hannover, Institut für Elektrische Energiesysteme (IfES), Fachgebiet Elektrische Energiespeichersysteme
Leibniz Universität Hannover, Institut für Wirtschaftsinformatik (IWI)
Technische Universität Berlin, Institut für Landschaftsarchitektur und Umweltplanung, Fachgebiet Landschaftsplanung und Landschaftsentwicklung
Fraunhofer Institut für Windenergie und Energiesystemtechnik IEE, FuE Bereich Energiewirtschaft und Netzbetrieb
Publikationen
Julia Thiele, Julia Wiehe, Christina von Haaren (2021). Dataset: Areas with low and medium spatial vulnerability to a prototype wind turbine. Repositorium der Leibniz Universität Hannover, https://doi.org/10.25835/0072778
Thiele, J.; Wiehe, J.; Gauglitz, P.; Lohr, C.; Bensmann, A.; Hanke-Rauschenbach, R.; Haaren, C. von (2021): 100 % erneuerbare Energien in Deutschland. Kann der Energiebedarf 2050 im Einklang mit Mensch und Natur gedeckt werden?, In: Natur und Landschaft 96 (11): 517–525. DOI: 10.19217/NuL2021-11-02
Thiele, J.; Wiehe, J.; Gauglitz, P.; Pape, C.; Lohr, C.; Bensmann, A. et al. (2021): Konkretisierung von Ansatzpunkten einer naturverträglichen Ausgestaltung der Energiewende, mit Blick auf strategische Stellschrauben. "Naturverträgliche Ausgestaltung der Energiewende" (EE100-konkret). Bonn (BfN-Skripten, 614). Online verfügbar unter https://www.bfn.de/sites/default/files/2021-09/Skript614.pdf, zuletzt geprüft am 08.11.2021. DOI: 10.19217/skr614
Wiehe, J.; Thiele, J.; Walter, A.; Hashemifarzad, A.; Zum Hingst, J.; Haaren, C. von (2020): Nothing to regret: Reconciling renewable energies with human wellbeing and nature in the German Energy Transition. In: International Journal of Energy Research 45 (1), S. 745–758. DOI: 10.1002/er.5870
---