Vision:En 2040PLUS: Weiterentwicklung und Verstetigung der Anwendung und des Veranstaltungskonzepts 'Vision:En 2040 - Unsere Ideen, unsere Energiewende'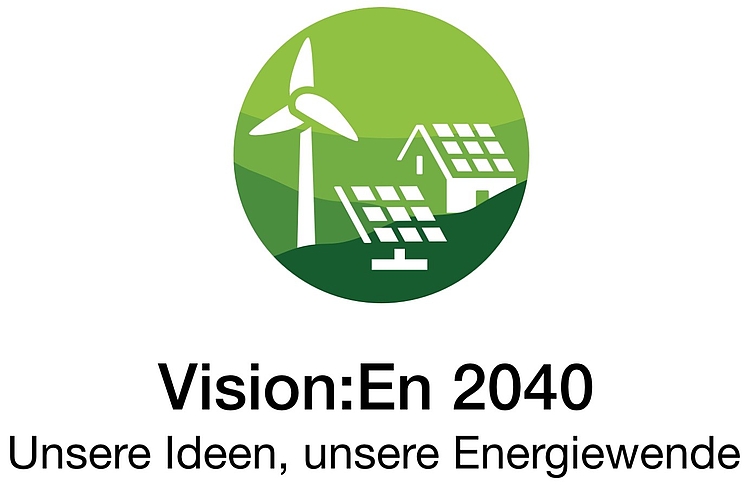 | | |
| --- | --- |
| Led by: | Prof. Christina von Haaren |
| Team: | Dr. Julia Thiele |
| Year: | 2024 |
| Funding: | Niedersächsisches Ministerium für Umwelt, Energie und Klimaschutz |
| Duration: | 01.07.2022 bis zum 31.10.2024 |
For an English version, scroll down.
Der Ausbau von erneuerbaren Energien ist grundlegend für die Umsetzung der Energiewende in Deutschland, um Klimaschutzziele sowie eine unabhängige Energieversorgung zu erreichen. Die Transformation des Energiesystems ist noch lange nicht erreicht, insbesondere wenn der gesamte Primärenergieverbrauch in die Betrachtung einbezogen wird. In 2020 betrug der bilanzielle Anteil der erneuerbaren Energien in Niedersachsen hieran rund 25 %. Insgesamt ist die Energiewende von der Mehrheit der Bevölkerung gewünscht. Vor Ort stoßen konkrete Planungen für neue Energieanlagen jedoch auch auf Gegenstimmen und Anwohnende wünschen sich eine größere Beteiligung am Prozess.
Vor diesem Hintergrund entwickelte ein Projektteam - bestehend aus Mitgliedern des Instituts für Umweltplanung (IUP) der Leibniz Universität Hannover (LUH), der Klimaschutzagentur Region Hannover und der IP SYSCON GmbH - ein digitales Dialogtool mit Veranstaltungskonzept: "Vision:En 2040" soll die Zustimmung für erneuerbare Energien vor Ort stärken, indem Bürger*innen sich in Dialogveranstaltungen über ihre Ausbauvisionen austauschen und diese mithilfe einer Anwendung umsetzen. Bei den Dialogveranstaltung finden soziale Lernprozesse statt und Informationen sowie Wissen werden weitergegeben, sodass 'Vision:En 2040' einen Beitrag zur Akzeptanzsteigerung des EE-Ausbaus auf lokaler Ebene leistet. Für Olaf Lies, Niedersächsischer Minister für Umwelt, Energie, Bauen und Klimaschutz, stellt das Projekt einen wichtigen Schritt auf dem Weg zur Energiewende dar (Quelle). Mit Vision:En 2040PLUS geht das Vorhaben deswegen in eine zweite Runde.
Ziel des Folgeprojektes Vision:En 2040PLUS ist es, durch weitere Veranstaltungen die Praktikabilität der Anwendung und des Veranstaltungskonzepts fortführend zu testen und zu optimieren. Das Projektteam erweitert in Vision:En 2040PLUS das Dialogtool auf ganz Niedersachsen. Auf Grundlage der praktischen Erfahrungen aus zusätzlichen Veranstaltungen wird ein Manual angefertigt. Das Manual befähigt weitere niedersächsische Akteur*innen (z. B. regionale Energieagenturen, Kommunen) nach Projektabschluss selbständig Dialogveranstaltungen in ihren Regionen durchzuführen und 'Vision:En 2040' zu verbreiten.
Das Projektkonsortium aus dem Institut für Umweltplanung der Leibniz Universität Hannover, der Klimaschutzagentur Region Hannover gGmbH und der IP SYSCON GmbH plant drei Phasen für das Vorhaben Vision:En 2040PLUS:
In der ersten Phase wird die Anwendung um die erforderlichen Geodaten und Analysen für ganz Niedersachsen erweitert. Eine Veranstaltung mit niedersächsischen Multiplikator*innen und Expert*innen soll Erkenntnisse liefern, wie die Ergebnisse aus den Dialogveranstaltungen in konkrete Planungsprozesse integriert werden könnten und inwiefern 'Vision:En 2040' als informelles Instrument der Bürger*innenbeteiligung eingesetzt werden kann.
Das Veranstaltungskonzept wird in der zweiten Phase konsolidiert. Hierfür werden Veranstaltungen in verschiedenen Gemeinden durchgeführt (Region Hannover sowie Kommunen in mindestens zwei weiteren Landkreisen), damit 'Vision:En 2040' unter vielfältigen Rahmenbedingungen zum Einsatz kommt.
In der dritten Phase werden die Dialogveranstaltungen zusätzlich quantitativ und qualitativ ausgewertet, um wissenschaftliche Belege zu erhalten, ob die Teilnahme an 'Vision:En 2040' die Einstellung zur Energiewende und den Ausbau vor Ort verändern kann.
Das Folgeprojekt wird vom Niedersächsischen Ministerium für Umwelt, Energie, Bauen und Klimaschutz gefördert.
Projektpartner*innen:
Klimaschutzagentur Region Hannover gGmbH
https://klimaschutzagentur.de/
IP SYSCON GmbH
https://www.ipsyscon.de/start/
---
Aktuelles
Das Projekt wurde im Oktober 2023 verlängert. Durch die Aufstockung können folgende Ziele zusätzlich erarbeitet werden:
Modul "Integration Schnittstelle": Mithilfe einer Importfunktion im Dialogtool sollen Planungsdaten des jeweiligen Regionalplanungsträgers auf der Ebene der Planungsregionen visualisiert werden. In diesem Zusammenhang wird das Veranstaltungsformat sowie die Oberfläche des digitalen Dialogtools an den größeren "Spielraum" (Ebene der Regionalplanungsträger) angepasst.
Ökonomie- und Treibhausgas-Einsparungsmodul: Das Ökonomiemodul soll den Veranstaltungsteilnehmenden aufzeigen, welche finanziellen Gewinne für die Kommune durch die Errichtung von EE-Anlagen erzielt werden könnten. Das Treibhausgas-Einsparungsmodul visualisiert bei der Platzierung von EE-Anlagen, wie hoch die Einsparung von anthropogen verursachten Treibhausgasen (THG) durch die neu installierten EE-Anlagen sein könnten.
---
Neue Datenveröffentlichung:
Wagenfeld, J., Thiele, J., Schmedes, D & von Haaren, C. (2023). Dataset: Geodaten der Flächeneignungsberechnung des Projekts Vision:En 2040 PLUS. https://doi.org/10.25835/jfhql31a
---
Vision:En 2040PLUS: Further development and consolidation of the application and the event concept 'Vision:En 2040 - Our ideas, our energy transition'
The expansion of renewable energies is fundamental for the implementation of the energy transition in Germany in order to achieve climate protection goals and an independent energy supply. The transformation of the energy system is far from being achieved, especially when the entire primary energy consumption is considered. In 2020, the balance sheet share of renewable energies in Lower Saxony was around 25 %. Overall, the energy transition is desired by the majority of the population. However, concrete plans for new energy plants also encounter some local opposition, and local residents would like to be more involved in the process.
Against this background, a project team - consisting of members of the Institute of Environmental Planning (IUP) of the Leibniz University Hannover (LUH), the Climate Protection Agency Hannover Region and IP SYSCON GmbH - created a digital dialogue tool with an event concept: "Vision:En 2040" aims to strengthen local support for renewable energies by enabling citizens to exchange their visions for expansion in dialogue events and to implement them with the use of the application. Social learning processes take place at the dialogue events while information and knowledge are shared, so that 'Vision:En 2040' contributes to increasing the acceptance of renewable energy expansion at the local level. For Olaf Lies, Lower Saxony's Minister for the Environment, Energy, Building and Climate Protection, the project represents an important step on the path to the energy transition (source). With Vision:En 2040PLUS, the project is therefore entering a second round.
The aim of the follow-up project Vision:En 2040PLUS is to continue testing and optimising the practicability of the application and the event concept through further events. In Vision:En 2040PLUS, the project team is extending the dialogue tool to the whole of Lower Saxony. Based on the practical experience gained from additional events, a manual is being prepared. The manual will enable other Lower Saxon actors (e.g. regional energy agencies, municipalities) to independently conduct dialogue events in their municipalities and to disseminate 'Vision:En 2040' when the project is completed.
The project consortium consisting of the Institute of Environmental Planning of the Leibniz University Hannover, the Climate Protection Agency Hannover and IP SYSCON GmbH is planning three phases for the Vision:En 2040PLUS project:
In the first phase, the application will be broadened to include the required geodata and analyses for the whole of Lower Saxony. An event with Lower Saxony multipliers and experts will provide insights into how the results from the dialogue events could be integrated into concrete planning processes and whether 'Vision:En 2040' can be used as an informal instrument of citizen participation.
The event concept will be consolidated in the second phase. For this purpose, events will be held in various municipalities (Hannover region and municipalities in at least two other regions) so that 'Vision:En 2040' is applied under a variety of circumstances.
In the third phase, the dialogue events will be additionally evaluated quantitatively and qualitatively in order to obtain scientific evidence if participation in 'Vision:En 2040' can change attitudes towards the energy transition and local expansion.
The follow-up project is funded by the Lower Saxony Ministry for the Environment, Energy, Building and Climate Protection.
Project partners:
Klimaschutzagentur Region Hannover gGmbH
https://klimaschutzagentur.de/
IP SYSCON GmbH
https://www.ipsyscon.de/start/
---
News:
New data publication:
Wagenfeld, J., Thiele, J., Schmedes, D & von Haaren, C. (2023). Dataset: Geodaten der Flächeneignungsberechnung des Projekts Vision:En 2040 PLUS. https://doi.org/10.25835/jfhql31a