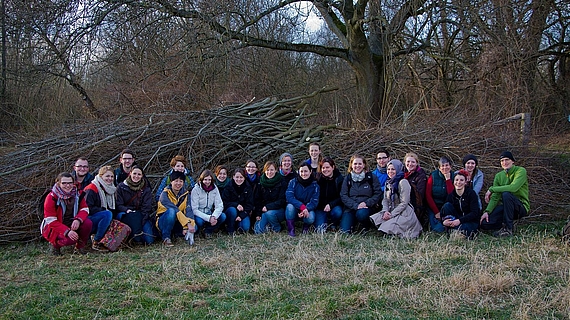 Students care for pollarded willows in the southern Leine floodplain
On 25 February 2014, a study day on the topic of pollarded willow management took place in the southern Leine floodplain near Hanover. The starting point of the excursion, which was supervised by Dr Stefan Rüter, was NABU Laatzen's Alte Feuerwache nature conservation centre.
After a guided tour through the nature reserve "Alte Leine", the afternoon was dedicated to practical nature conservation work. The students carried out the head willow care on site themselves. Under guidance, 15 pollarded willows were professionally pruned with the help of hand saws and loppers. There was also a little surprise and additional motivation for the sweaty work: part of the cut willow rods will be made into a wicker fence in the pointer plant garden (Zeigerpflanzen-Garten) at IUP.