HiPP Contract Innovation Lab

There are plenty of proposals for more environmental protection in agriculture. But what do agricultural policy and private-sector framework conditions have to look like so that these proposals can also be increasingly implemented by farmers? The Contracts2.0 project is developing approaches to this question.
27 partners from research and practice from twelve different EU countries are working on innovative contract models that are intended to offer agricultural businesses incentives for the increased implementation of environmental protection measures. To this end, 11 Contract Innovation Labs (CILs) are being set up as part of the project. Here, scientists and practitioners meet at regular intervals to discuss current and potential novel contract models. The labs offer the opportunity to use expert knowledge from practitioners for the design of contracts and to integrate research results into the social innovation process.
Together with the HiPP company, the scientists of the Institute for Environmental Planning are investigating the question of which sustainable contract models (dream contracts) can be used to link actors in a sustainable value chain.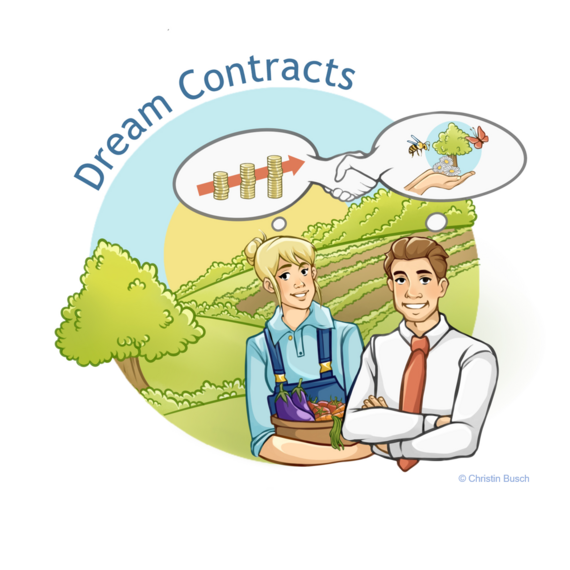 Currents

The kick-off of the HiPP Contract Innovation Lab took place on February 20, 2020 in Pfaffenhofen/Ilm. The HiPP Lab focuses in particular on contract approaches within the value chain. It investigates how the production of public environmental goods - such as biodiversity - can be guaranteed, especially in long supply chains, which actors are involved and in which role, and how the provision of public environmental goods can be rewarded within the value chains. For this purpose, scientists from IUP and ZALF met with various organic food companies, suppliers, producers and representatives of the Association of Organic Food Producers (AöL) e.V.. The workshop focused on approaches that the represented companies are currently taking to integrate biodiversity and ecosystem services into their corporate strategy. The discussion provided initial information on the requirements for so-called "dream contracts" within the value chain and provided important foundations for innovative approaches.
For more information, please see our current Newsletter.