Further developing nationwide indicators for cultural ecosystem services (KÖSL 2.0)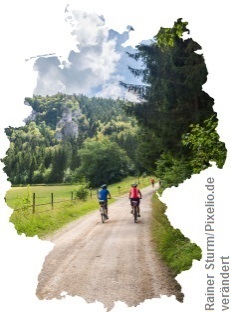 | | |
| --- | --- |
| Led by: | Prof. Dr. Christina von Haaren, Junior-Prof. Dr. Christian Albert |
| Team: | M.Sc. Johannes Hermes, Dipl.-Umweltwiss. M.Sc. Birte Bredemeier |
| Year: | 2020 |
| Funding: | Bundesamt für Naturschutz (BfN) |
| Duration: | Dezember 2018 - Februar 2020 |
Cultural ecosystem services (CES) are the services of nature and landscapes that generate positive effects on human well-being, e.g. through recreation, interaction with nature and landscapes, and aesthetic experiences. They can provide various individual and societal benefits, making them an important field of action for spatial planning and policy. To date, there has been a lack of suitable indicators and methods for mapping and evaluating cultural ecosystem services at a national level, which could usefully inform spatial planning and policy making with regard to better consideration of CES. The project "Valuing cultural ecosystem services in Germany" developed and applied a concept for a nationwide assessment, evaluation, and mapping of (1) the capacity of the landscape to supply CES for recreation, in particular for leisure and weekend recreation, (2) the relevant recreation infrastructures, as well as for (3) a spatial representation of the demand for these services (spatial analysis). At the same time, a nation-wide representative empirical study was carried out surveying the actual use of landscapes and their elements in the context of leisure and weekend recreation, among other things.
Four core results were achieved in the context of the spatial analysis:
A nationwide evaluation of the aesthetic quality of the landscape as a backdrop for recreational activities,

an evaluation of the landscape quality for recreational activities (CES capacity),

a spatial assessment of the utilization pressure on the landscape, which takes into account the accessibility of potential areas for recreation and population density, and

an overlay of capacity and utilization pressure, from which discrepancies and congruencies between the two can be derived.
The empirical study generated nationwide representative data on participation rates, and frequencies of leisure and weekend recreation, on landscape preferences for corresponding activities, as well as economic values of marginal changes in recreational landscapes.
'KÖSL 2.0' builds upon those results. The set of indicators for the nationwide mapping and assessment of cultural ecosystem services will be further developed and, where possible, simplified. Development potentials identified in the previous project will be implemented. This includes e.g. a further development of the description of supply-demand relationships towards a single indicator representing the level of CES supply provided by the landscape or the supply level of settlements or the population. With the help of a corresponding indicator, areas with good or less good supply can be identified nationwide. At the same time, new indicators will be developed, for example for coastal and marine services for recreation and tourism. An indicator that takes into account the special features of oceans and coastal areas for CES supply has so far been lacking for the national level. The results can usefully inform planning and policymaking and contribute to Germany's reporting obligations under Target 2, Action 5 of the EU Biodiversity Strategy.
---
Weiterentwicklung des bundesweiten Indikatorensatzes für kulturelle Ökosystemleistungen (KÖSL 2.0)
Als kulturelle Ökosystemleistungen (KÖSL) werden Leistungen von Natur und Landschaft bezeichnet, die eine Wirkung unter anderem auf Erholung, Landschaftsästhetik und Landschaftserleben haben. Aus den kuturellen Ökosystemleistungen können verschiedene individuelle sowie gesamtgesellschaftliche Nutzen gezogen werden, was sie zu einem wichtigen Handlungsfeld für räumliche Planung und Politik macht. Bisher fehlten jedoch geeignete Indikatoren und Methoden zur Erfassung und Bewertung dieser Leistungen auf der nationalen Ebene, die die räumliche Planung und Politikberatung sinnvoll hinsichtlich einer besseren Berücksichtigung von KÖSL unterstützen können. Im abgeschlossenen Forschungsvorhaben "Bewertung kultureller Ökosystemleistungen in Deutschland" wurde daher ein Konzept für eine deutschlandweit flächendeckende Erfassung, Bewertung und kartographische Darstellung des landschaftlichen Dargebots an KÖSL für Erholung und Freizeit, insbesondere für die Feierabend- und Wochenenderholung, der relevanten Erholungsinfrastrukturen sowie für eine räumliche Darstellung der Nachfrage nach diesen Leistungen entwickelt und angewendet (räumliche Analyse). Parallel dazu wurde eine deutschlandweit repräsentative, empirische Studie unter anderem zur tatsächlichen Nutzung von Landschaften und ihren Elementen im Rahmen der Feierabend- und Wochenenderholung durchgeführt.
Im Rahmen der räumlichen Analyse wurden vier Kernergebnisse erzielt:
Eine bundesweit flächendeckende Bewertung der ästhetischen Qualität der Landschaft als Kulisse für Erholungsaktivitäten,
eine Bewertung der erholungsrelevanten Landschaftsqualität als Dargebot für Erholungsaktivitäten,
eine räumliche Erfassung des Nutzungsdrucks auf die Landschaft, die die Erreichbarkeit potentieller Erholungslandschaften und die Bevölkerungsdichte berücksichtigt, sowie
eine Überlagerung von Dargebot und Nutzungsdruck, die die hypothetische Nachfrage ausdrückt und aus der sich Diskrepanzen zwischen Dargebot und Nachfrage ableiten lassen.
Im Rahmen der empirischen Erhebung wurden bundesweit repräsentative Daten zu Teilnahmequoten und Häufigkeiten der Feierabend und Wochenenderholung, zu landschaftlichen Präferenzen bei entsprechenden Aktivitäten sowie ökonomische Werte marginaler Änderungen von Erholungslandschaften im Sinne einer Zahlungsbereitschaft ermittelt.
Das neue Vorhaben "KÖSL 2.0" knüpft nun inhaltlich an das Vorhaben "Bewertung kultureller Ökosystemleistungen in Deutschland" an. Der Indikatorensatz für die bundesweite Erfassung und Bewertung kultureller Ökosystemleistungen soll hier weiterentwickelt und, wo möglich, vereinfacht werden. Dadurch sollen im Vorgängervorhaben aufgezeigte Entwicklungsbedarfe, wie beispielsweise eine ausgewogenere Bewertung von Siedlungsräumen vs. ländliche Räume, umgesetzt werden. Hierzu zählt auch eine Weiterentwicklung der Beschreibung von Angebot-Nachfrage-Beziehungen, d. h. der Versorgungsleistung der Landschaft im Zusammenspiel mit dem Versorgungsgrad von Siedlungen bzw. der Bevölkerung. Mithilfe eines entsprechenden Indikators sollen bundesweit Gebiete mit guter bzw. weniger guter Versorgung identifiziert werden. Gleichzeitig gilt es neue Indikatoren zu entwickeln, beispielsweise für die Leistungen von Küsten und Meeren für Erholung und Tourismus. Denn ein Indikator, der die Besonderheiten meeresbezogener KÖSL berücksichtigt, fehlt bisher für die Bundesebene. Die Ergebnisse sollen einerseits zur Politikberatung eingesetzt werden, andererseits zu Deutschlands Berichtspflichten gemäß Ziel 2, Maßnahme 5 der EU-Biodiversitätsstrategie beitragen.
Das Vorhaben "Weiterentwicklung des bundesweiten Indikatorensatzes für kulturelle Ökosystemleistungen (KÖSL 2.0)" wird in enger Abstimmung mit dem Institut für Tourismus und Bäderforschung in Nordeuropa (NIT) durchgeführt.